Welcome to Am Shalom's *FREE Jewish Heritage School for children aged 4-13.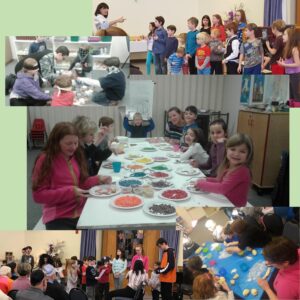 *Thanks to some very generous donors, we are able to offer our Jewish Heritage School to our members for free on the condition your child attends at least 70% of the classes (19/27).  The $400 deposit per child will then be refunded at the end of the school year.  (You may choose to donate it to Am Shalom or put it towards next year's dues at that time.)
Our program gives our students the opportunity to participate and develop personal relations to Judaism beyond the classroom. Through a combination of Hebrew language lessons, singing/prayer education with our Rabbi, Audrey Kaufman, and Torah/Avodah/G'milut Chasadim education using the Chai curriculum, our students receive a well rounded education in Reform Judaism that can continue well after their Bar/Bat Mitzvahs.
Our curriculum builds on what students have studied in previous years and introduces new concepts appropriate to their cognitive development.  To keep students focused and involved, teaching methodologies can include classroom discussions and study, individual and group learning experiences, experiential learning through Prayer with our Rabbi/Cantor, Jewish Cooking, craft making, and "Ask the Rabbi" sessions that include questions and discussions.  Students will develop an understanding of Hebrew necessary for rich, meaningful, and intellectual Jewish living, as well as an interest and desire to participate in local, national and world Jewish affairs, to take leadership positions in Jewish life, and to contribute toward the fulfillment of a just society and a united humankind.  They will also gain knowledge, understanding and appreciation of Jewish worship and prayer as well as develop knowledge of and a bond with ancient and modern Israel.
Classes are held throughout the year from September to May on Saturday mornings from 10 a.m. to 12:30 p.m.  Parents are encouraged to attend services upstairs while their children learn from our excellent teachers downstairs.  We all join together afterwards for our community kiddush.
We welcome you to bring your child and sit-in on a Saturday morning class. Please contact the synagogue office at 705-792-3949 or Rabbi Kaufman at RabbiAmShalom@gmail.com for more information.