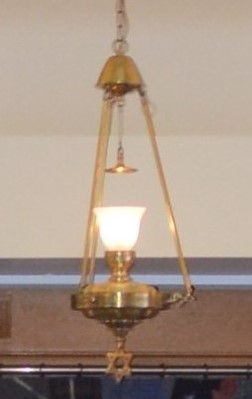 At moments of transition, whether celebrating or when we are in need of support, the value of community cannot be overstated.
Whether welcoming a new child into the family, celebrating the start of one's Jewish studies, a Bar or Bat Mitzvah, a wedding, or confronting illness or the loss of a loved one, the value of coming together imbues our experiences with meaning.
Here at Am Shalom we love to celebrate all of life's special moments. We have a beautiful hand crafted Chuppah for weddings or vow renewals, a wonderful gazebo in our garden, and a dance floor in our sanctuary to dance a Hora on.  In Judiasm each special occasion is marked by the entire community with prayer, music and of course food.  
Our main hall and kitchen facilities are available to rent for your special occasion, just give us a call to see if your date is available. Click here to see our facilities.
Our Spiritual Leader, Rabbi Audrey Kaufman is a Licensed Ontario Marriage Officiant. To arrange her services please go to audreykaufman.com
Information on Brit Milas/Baby Naming, Bar/Bat Mitzvah and Funeral/Cemetery follows below.
B'rit milah, (literally, "covenant of circumcision"), also called a bris, refers to a religious ritual through which male babies are formally welcomed into the Jewish people. According to Jewish tradition, it is a parent's obligation to circumcise a son and offer a threefold blessing for the child: a life enriched by Torah, the wedding canopy (chuppah), and good deeds. Today, a mohel or mohelet is routinely designated by parents to fulfill this custom.  At a bris, a baby boy is brought into the covenant between God and the Jewish People, in fulfillment of the command given by God to Abraham.  Please let Am Shalom know if you would like to have your Brit Milah here at the synagogue. We can help find you a reform mohel to perform the circumcision as well.
If your child has already been circumcised, then we would recommend doing a ceremony bringing the child into the covenant and giving him a Hebrew name.
The Reform Rabbi's Manual contains a naming ceremony for girls which has all the same blessings and reading for a girl as for a boy, minus the blessing of milah itself. Such ceremonies usually include blessings by the mother thanking God for a safe delivery, by the parents thanking God for a healthy child, and asking for help in raising the child, pledging to raise her Jewishly. Other family members may give blessings or say something, godparents may be honored with holding the baby, as in a brit milah, or may give a blessing. The child's name is announced, with some explanation of who she was named for or what the significance is of the name. The rabbi or officiant will bless the child, as in a brit milah, and then there is a party.
More simply, the child can be brought to synagogue on Shabbat and be named by the rabbi in front of the ark during services, which is a nice way of making this personal family event also a celebration for the community and a chance for the community to welcome the newest member into the Jewish community.
Bar and bat mitzvah mean, literally, "son and daughter of the commandment."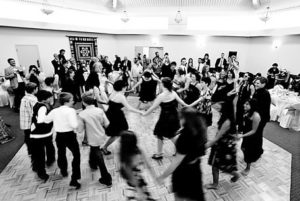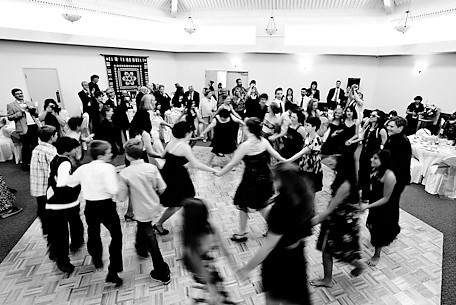 In Reform synagogues, girls and boys, mark symbolic entry into Jewish adulthood at age 13. Boys and girls may conduct all or part of the service, read or chant the b'rachot over the Torah (an aliyah), read a section from the Torah portion for that week, read or chant theb'rachot for the haftarah, read a section from the haftarah, and deliver a sermon.
Here at Am Shalom Congregation Bar and Bat Mitvot are the culmination of participating in our Religious school program, a graduation of sorts.  Our entire congregation rejoices in the student becoming a full adult member of the congregation with all the benefits and responsibilities that go with it.  
Please contact the synogogue office for further information on registering your child in our school or booking your function.
You are invited and encouraged to let us know the name and yahrzeit of your beloved ones who have departed from us. We will honour their memory by announcing their name at our synagogue during services. May you be comforted among all the mourners of Israel.
In Jewish tradition, when the year of mourning is over, mourners are expected to return to a fully normal life. There are several occasions each year when our loved ones who have passed on are memorialized. The most significant of these is yahrzeit, the anniversary of the death, which is observed according to the Hebrew calendar. As is the case in all Jewish holy days, yahrzeit observance begins at night. A 24-hour candle is lit and one may attend synagogue to recite the Kaddish [the memorial prayer]. Candles are available from our gift shop.
In Judaism we value life above all else, but we accept that one day we all must leave this world for the "world to come" – olam ha-ba.
As a member of the Congregation, you have the right to purchase cemetery plots for yourself and your family in our congregational cemetery, as long as you are members in good standing and have been for 3 years.
In the event of a death outside of Am Shalom's regular business hours please call to leave us a message and then call the Funeral Parlour of your choice directly and they will contact the appropriate clergy on our behalf.
We recommend Benjamin's Park Memorial Chapel 416-663-9060 or Steele's Memorial Chapel 905-881-6003.  Alternatively you may call Steckley's here in Barrie at 705-721-9921 or Hebrew Basic Burial at 416-780-0596.
Frequently Asked Questions:
Where is the cemetery located?
The Am Shalom cemetery in located within "Innisvale Cemetery and Crematorium", on the west side of Highway 400 just north of Georgian Downs, in the Township of Innisfil, 705.722.3121.
Does the synagogue own the cemetery?
No. The synagogue has a long term agreement with the Cemetery, which is an independent private corporation. Innisvale agreed to section a part of their cemetery for exclusive use for Am Shalom, as a Jewish cemetery. In return, our members pre-purchased 25 plots.
Do we pay the Cemetery or the synagogue for our plots?
You would pay the Cemetery for your plots.
Does the Jewish section of the cemetery have a demarcated boundary?
Yes. Our section contains approximately 200 plots and is demarcated by a pathway of paving stones.
Has the cemetery been consecrated ?
Yes. The cemetery was dedicated on August 25, 2002 / 17 Elul 5762. Rabbi Baskin led the service.
Why should I prepay for my plot? I might move away.
Prepayment makes sense for many. It takes away a major burden from your family at the time of your death, and allows you to ensure burial alongside your spouse. If you move away you can sell your plot back to the Cemetery, less an administration fee.
I am not a member. My spouse just died. Can I buy a plot for him/her and for myself together?
Expanding the Jewish section in the future may or may not be possible. In any event, as we grow our needs will grow too and expenses will be incurred. To protect the Congregation's future we ask that families purchasing a plot for their loved one donate 3 years of membership dues (tax deductible) for the deceased. For two or more adjoining plots (subject to availability) both purchasers would need to be members. No one will be turned away due to inability to pay. For dues relief, our treasurer is empowered by the Congregation to assist.
I am Jewish but my spouse is not. Can we be buried together?
Yes. As long as the requirements as set out in our agreement with the Cemetery are met. For example, two of the requirements are that no religious graveside service other than a Jewish service be conducted, and that no non-Jewish symbols are allowed on headstones. (A religious service other than Jewish may be conducted elsewhere, for example at a funeral parlour).
All purchasers of cemetery plots in the Am Shalom section must sign an agreement to abide by these rules, which are also among the bylaws of Innisvale Cemetery and Crematorium ( Article 13.02 )
Is there a local funeral parlour that can handle a Jewish funeral?

To date there is no Jewish burial society in Barrie, but we hope to start one. Am Shalom can recommend a rabbi or cantor for the funeral service, which can be held in our sanctuary. To adhere to all the Jewish laws regarding death, funeral, and burial we recommend:
Benjamin Park Memorial Chapel in Toronto, 416.663.9060
Steel's Memorial Chapel in Toronto,  905.881.6003
Hebrew Basic Burial in Toronto 416-780-0596
Steckley–Gooderham in Barrie can arrange almost all aspects of a Jewish funeral (kosher casket, shiva chairs, kriah ribbons, burial shroud). The ritual washing and shomer (guard) would normally be done by a Chevra Kaddisha (burial society).  To date there is no Jewish burial society in Barrie, but we hope to start one.
Please do let us know about shiva dates and times as many members of our congregation would attend to support the bereaved.