Latest News
We Welcome those who are fully vaccinated for at least 14 days to please join us for Indoor In-Person Shabbat Services. Zoom services will continue as well.  Please check the
calendar
for service dates.
After significant consultation with health and safety professionals and an in-depth review of our options and responsibilities, we are ready to resume Shabbat morning services with the following protocols:
Please self screen prior to coming to shul using the attached guidelines. You will be asked to confirm that all responses are NO prior to entering the building. You will be asked to sign in for contact tracing purposes. Please arrive a few minutes prior to services so you may be screened and seated on time.
Social Distancing and Masks will be required.  Occupancy is limited to 75 people (25%). Masks, for those who don't have their own, as well as hand sanitizer are available upon entry.  Patrons are asked to please remain at their seats for the duration of the services (except for washroom breaks); there will be no "socializing" in the building and no community kiddish at this time.
We encourage everyone who is not double-vaccinated or cannot remain at their seats for 2 hours to please join us over Zoom.  Contact the office for the weekly link.
The decision to require in-person participants to be double vaccinated was made after considerable discussion. There is a need for our higher-risk service participants to feel safe from life-threatening exposure while attending our in-person services. We encourage everyone who is not double-vaccinated to join us on Zoom instead. Those who cannot be vaccinated due to a valid medical exemption and wish to join us for in-person services must show a negative Covid-19 PCR test within the previous 48 hours
Thank you
The Am Shalom Board of Directors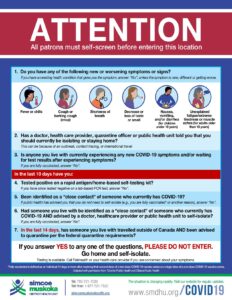 Enriching our Jewish Community
ABOUT AM SHALOM:

Am Shalom is a modern Reform Congregation providing spiritual enrichment to the Jewish community throughout the Simcoe County area.
The Union for Reform Judaism (URJ) believes that everyone can feel at home in Judaism and that there is more than one way to be authentically Jewish. We stand for a Judaism that, in response to today's realities, is inclusive, open, and diverse.
We welcome all those wishing to share with us in exploring our religious heritage, celebrating our customs and rituals.
Reform Judaism maintains faith in the Covenant between God and Israel as expressed over the generations in the teachings of an ever-evolving Torah and tradition. Stirred by the mandate of tikkun olam, (repairing the world) Reform Judaism seeks to be the living expression of those teachings. It welcomes all who seek Jewish connection to pursue a life of meaning as inspired by the Divine and proclaimed in the truths grasped by Jewish teachers throughout time.
Reform Jews are committed to the principle of inclusion, not exclusion. Since 1978 the Reform Movement has been reaching out to Jews-by-choice and interfaith families, encouraging them to embrace Judaism. Reform Jews consider children to be Jewish if they are the child of a Jewish father or mother, so long as the child is raised as a Jew.
Reform Jews are committed to the absolute equality of women in all areas of Jewish life. We were the first movement to ordain women rabbis, invest women cantors, and elect women presidents of our synagogues.
Reform Jews are also committed to the full participation of the LGBTQ+ community in synagogue life as well as society at large.
Shabbat is a joyous occasion at Am Shalom whether we celebrate within our sanctuary, outdoors under the stars, or on the unspoiled waters of Georgian Bay. Together with our spiritual leader, Rabbi and Cantorial Soloist Audrey Kaufman, and our wonderful and talented Shirat Am Shalom Choir, we explore Reform Judaism's traditions enriching our Jewish experience.
Our members are active and involved in a variety of Social Action programs, which focus on volunteering in the community. For over three decades the Am Shalom Congregation has built a Jewish community interested in studying the many aspects of Reform Jewish life.
Located an hour north of Toronto, the Am Shalom Congregation welcomes you to our next worship service, social gathering, or holiday celebration.