Latest News
Community Statement
‍The past month has been extremely difficult for Canadian Jews. We have witnessed Jewish businesses boycotted, Jewish organizations targeted, Jewish students intimidated, and Jewish citizens assaulted, all ostensibly triggered by the recent conflict between Hamas, an organization long recognized by Canada as a terrorist entity, and Israel.
What is most frightening is not the brazen assaults, vandalism and harassment our community has endured – as terrible as they have been – but the reluctance of many Canadians to stand in solidarity with their fellow citizens who are under attack.
Antisemitism, especially in its modern guise of anti-Zionism, is not simply an issue of masked extremists who beat Jews and destroy their property. It is also an issue of some of our society's most esteemed institutions – universities, school boards, political parties, unions, the media – ignoring Jew hatred, and in so doing, providing cover for it.
How else are we to consider the fact that there are dozens of news articles detailing "peaceful" anti-Israel protests across Canada that failed to mention the explicit calls for violence against Jews or the actual violence against Jews that took place at these events?
"Anti-Zionists" claim they are not antisemitic, that they are merely criticizing Israel and its supporters. This argument is false.
When Canadian Jews are demonized and targeted for supporting Israel, that is antisemitism.
When in the name of criticizing Israel, anti-Zionists pelt Canadian Jews with stones, that is antisemitism.
When Jewish businesses in Canada are boycotted, that is antisemitism.
When Jewish youth are subjected to merciless harassment and bullying online, that is antisemitism.
When Canadian institutions whitewash or simply ignore these acts, this too contributes to antisemitism.
As the ceasefire in the Middle East takes hold, the protests in Canada may eventually subside. But it is clear that antisemitism persists in our country – a toxic threat that must be combated not just by Canada's Jewish community, but by our entire society.
We call on our fellow Canadians to stand up to antisemitism in all of its forms and to challenge it wherever and whenever it rears its ugly head.
Hate of any kind has no place in our country.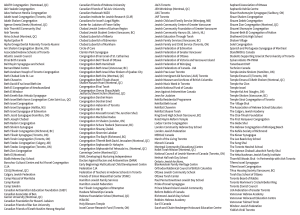 March/April 2021 update: We will continue to hold only virtual ZOOM services for the foreseeable future, at the least until most of us have had our vaccines, in order to keep everyone safe. Everyone is welcome to join us for these virtual Services over ZOOM.  Rabbi Kaufman leads a wonderful, inclusive service for all who attend.
Sign up with the button at the bottom of this page to have our weekly Newsletter delivered straight to your in-box each Wednesday and receive the link to our services and other informative and fun Zoom Sessions as well as other interesting articles.   Or you may email the office at amshalomcongregation@bellnet.ca and ask for the link.
Please Note: our gift shop is opened by appointment for non-contact pick up. Call or email the office to place your order for candles, books, gifts etc.
Here is the link to our Shabbat prayer book for the services (or anytime you wish to use it):
https://www.ccarnet.org/publications/mishkan-tfilah-for-shabbat/
Enriching our Jewish Community
ABOUT AM SHALOM:

Am Shalom is a modern Reform Congregation providing spiritual enrichment to the Jewish community throughout the Simcoe County area.
The Union for Reform Judaism (URJ) believes that everyone can feel at home in Judaism and that there is more than one way to be authentically Jewish. We stand for a Judaism that, in response to today's realities, is inclusive, open, and diverse.
We welcome all those wishing to share with us in exploring our religious heritage, celebrating our customs and rituals.
Reform Judaism maintains faith in the Covenant between God and Israel as expressed over the generations in the teachings of an ever-evolving Torah and tradition. Stirred by the mandate of tikkun olam, (repairing the world) Reform Judaism seeks to be the living expression of those teachings. It welcomes all who seek Jewish connection to pursue a life of meaning as inspired by the Divine and proclaimed in the truths grasped by Jewish teachers throughout time.
Reform Jews are committed to the principle of inclusion, not exclusion. Since 1978 the Reform Movement has been reaching out to Jews-by-choice and interfaith families, encouraging them to embrace Judaism. Reform Jews consider children to be Jewish if they are the child of a Jewish father or mother, so long as the child is raised as a Jew.
Reform Jews are committed to the absolute equality of women in all areas of Jewish life. We were the first movement to ordain women rabbis, invest women cantors, and elect women presidents of our synagogues.
Reform Jews are also committed to the full participation of the LGBTQ+ community in synagogue life as well as society at large.
Shabbat is a joyous occasion at Am Shalom whether we celebrate within our sanctuary, outdoors under the stars, or on the unspoiled waters of Georgian Bay. Together with our spiritual leader, Rabbi and Cantorial Soloist Audrey Kaufman, and our wonderful and talented Shirat Am Shalom Choir, we explore Reform Judaism's traditions enriching our Jewish experience.
Our members are active and involved in a variety of Social Action programs, which focus on volunteering in the community. For over three decades the Am Shalom Congregation has built a Jewish community interested in studying the many aspects of Reform Jewish life.
Located an hour north of Toronto, the Am Shalom Congregation welcomes you to our next worship service, social gathering, or holiday celebration.