By Ian McInroy, Barrie Examiner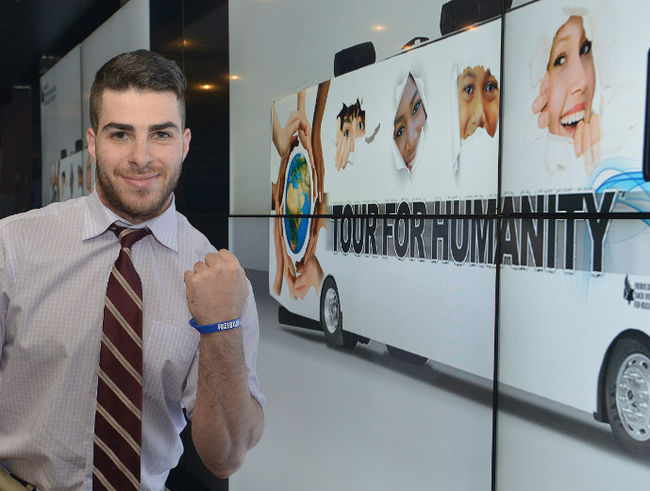 This bus is taking a trip to a more enlightened world.
The Friends of Simon Wiesenthal Centre for Holocaust Studies tour bus made a stopover at Am Shalom in Barrie during its Tour for Humanity.
It's intended to engage Canadians of all ages and backgrounds in discussions around freedom, democracy and human rights.
Three rows of chairs line the length of the bus that has also been fitted with backlit screens, making it a mobile communication centre.
While the horrors of the Holocaust are discussed, the Tour for Humanity is about much more.
It aims to empower Canadians to raise their voices and take action against hate and bullying and to promote justice and human rights, according Rosa Ringhofer, of Am Shalom. adding injustices such as slavery and the treatment of First Nations peoples need to be brought to the fore.
"There have been heroes over the years who stood up and said this should not be happening. There are heroes within us if we all open our hearts and minds," she said.
"Over the years, people have decided to share their experiences and let the world know we should not let it happen again," she said speaking of the Holocaust.
"But we're also educating communities about humanity and how we can work together and respect each other, regardless of the colour of our skin, sexual orientation or religion.
"We are all human beings with a beating heart and should have compassion for each other," Ringofer said.
To learn more about the Friends of Simon Wiesenthal Centre for Holocaust Studies, visit www.friendsofsimonwiesenthalcenter.com.