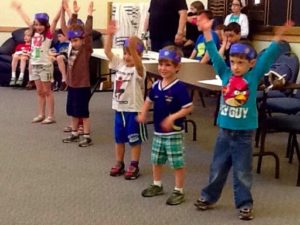 Welcome to Am Shalom's Religious School.
The goal of our program is to give our students the opportunity to participate and develop personal relations to Judaism beyond the classroom. Through a combination of Hebrew language lessons, singing/prayer education with our Spiritual leader Audrey Kaufman and Torah/Avodah/G'milut Chasadim education using the Chai curriculum, our students receive a well rounded education in Reform Judaism that can continue well after their Bar/Bat Mitzvahs.
Classes are held throughout the year from September to May on Saturday mornings from 10 a.m. to 12:30 p.m. Parents are encouraged to attend services upstairs while their children learn from our excellent teachers downstairs.
We welcome you to bring you child and sit-in on a Saturday morning class. Please phone the synagogue office, 705.792.3949 for more information.