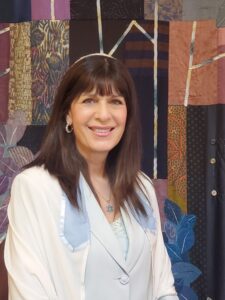 Am Shalom's Rabbi, Audrey Kaufman, was born and raised in Ottawa, Ontario where she and her family were active members of Agudath Israel, a traditional Conservative synagogue. Audrey developed a love for Chazzanut from her family's beautiful Shabbat z'mirot sung every Friday night, as well as listening to her father lead Shabbat and Yom Tov services at the synagogue.
Audrey retained her passion for Chazzanut, joining several Jewish choirs in Toronto, including Beth Shalom Synagogue, which her late uncle, Rabbi David Monson, led for decades. She received her cantorial training from distinguished cantors including Cantors Louis Danto and David Bagley, both of blessed memory. She is indebted to Cantor Thomas Schwartz of Temple Sinai and his wife Leslie, who started her on her cantorial path and continue to provide their professional support and valuable friendship.
Audrey was the Cantorial Soloist of the Chevrat Torah Services at Temple Sinai Congregation in Toronto and led their services for 10 years. She also officiated as High Holiday Cantor in Canada and the United States, leading Reform, Reconstructionist and Conservative synagogue services for over 16 years.
Audrey accompanied a March of the Living Toronto contingent as their musical leader of "Expression through Song" and has performed numerous times at Baycrest Centre, entertaining residents and their families with Yiddish melodies, Cantorial selections, Broadway tunes and contemporary Hebrew pieces.
Audrey was ordained as rabbi by the Mesifta Adas Wolkowisk Rabbinical Academy in New York on June 18, 2019.  
In addition to her role as the Rabbi/Cantor/Spiritual Leader of Am Shalom, Audrey works closely with the vibrant religious school and synagogue choir, sharing her extensive knowledge of Torah and music.  
​Audrey performs Jewish and inter-faith weddings as well as baby namings, bar mitzvah and bat mitzvah ceremonies, funerals and unveilings. She is certified by the province of Ontario to solemnize marriages. 
You can go to her wedding website here:  audreykaufman.com
Email: rabbiamshalom@gmail.com