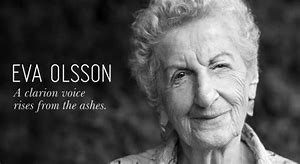 Am Shalom is proud to present
Eva Olsson  Holocaust Survivor
Saturday, November 23rd, 2019 At 1pm
Dr. Eva Olsson was born in Hungary into a poor family of Hasidic Jews in 1924 (she's 95 years old). Almost three-quarters of a century ago, she experienced several extermination camps including the most notorious—Auschwitz.
She and her sister were the only members of her family of six children and two parents to survive the Holocaust.
Since 1996, she has told her story more than 3800 times, to schools, universities, colleges, and churches. Eva Olsson has received several awards and recognitions including honorary degrees, Peacemaker of the Year Award, and United Nations Guest Speaker. She has published a book about her experiences called "Unlocking Doors", and a CD entitled "Stronger than Fire".
Eva will share her very personal story on what it means to be a victim of hate, to be at the physical and emotional mercy of the Nazi regime. She now dedicates her life to spreading a message of joy, hope and intolerance.
Light refreshments will be served